The wicked think, "God isn't watching us!
He has closed his eyes and won't even see what we do!"
My baby is 17 months old. She's a spirited lass; always into something and very curious.
So far, she's a good baby. She *usually* listens when I tell her no.
If she knows she's doing something she's not supposed to (and she sees you coming), she will bend all the way over, put her head on the ground, and close her eyes like "I'm not here! I didn't do it!"
That's exactly how we are with God sometimes. We don't think about him being around so we do our own little thing, and then when we are reminded of him, we play ostrich and put our head in the sand.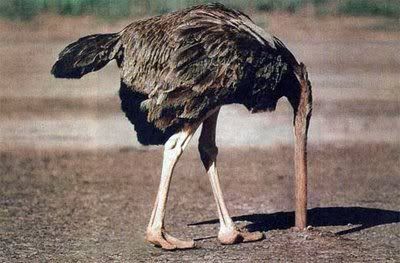 "You don't see me, God."
Well, I dare say that he DOES see us because he's God (kinda his thing).
You are never unimportant enough for God not to see. You will never be to sly, to crafty, to hidden for God not to see.
And that doesn't have to be a bad thing. It means God knows when you aren't being your best self, BUT it also means that he sees you when you think no one else does... when you feel low and unworthy.
Also, it makes you accountable. If you recognize that God sees all, you might be less tempted to do that thing in private that you know is bad, but "No One Will See".
If you do something not right, don't hide your head like Baby E does. Take responsibility and pray for forgiveness. It's better that way :)
(photo posted from
here
)