In the beginning was the Word.
*******************
If you take "The Word" out of this verse you get:
In the beginning was Jesus.
What do we get from that? Well, a lot of times people don't understand the 'God-head'? How can there be 3 parts of a whole which are all the same?
It really doesn't make any sense (that's why you have to have faith and believe).
John has a great way of taking that basic/complex component of Christianity and put it in easy to understand terms.
What can we learn from this? How how can we use it to tell others about Jesus?
We can learn 3 things from this one verse:
1) Jesus was here when time began.
2) Jesus was with God when he created the earth.
This is how I think of it....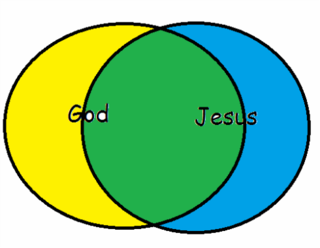 Jesus and God are the same whole, but can be thought of differently. They are the same and different, kind of like a Vienn Diagram. They are both parts and wholes.
If you have anything to add to that, please leave me a comment and tell me :)