When it rains it pours (literally... it's raining here and also on this blog.
Today, I'm excited to announce that THREE new blogs have been added :)
Aya's Life
Aya's Life chronicles my adventures and daily intimate moments with my Lord Jesus. He brings me to mountain-tops and valleys; and opens new opportunities for me to discover His amazing gifts. I share experiences and insights — both painful and joyful — hoping that these would help and encourage others to know Jesus our Lord, more intimately.
Pray to God Today
Is a new blog written by our very own Mike R. He's going to give me a snippet for you shortly.
And....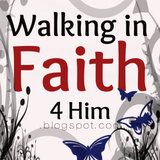 Walking in Faith 4 Him
Written by our very own, Kathy. This blog is about
a divorced, christian lady with a love for her Savior and a passion for others to come to know him too. She's to adjust to single life and an extremely empty nest since her son got married a few months ago.
Go check these great blogs out, follow them, and comment/encourage them. It's not easy writing a blog, and comments are a big blessing!
If you have a blog you'd like added to the directory, please email me at ohthatmomagain at yahoo dot com.
THANKS SO MUCH!
~Kelly