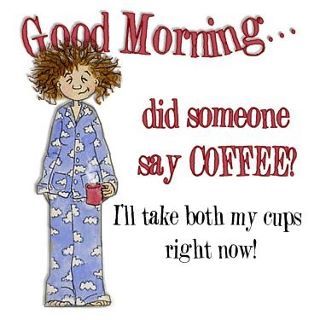 It is safe to say, I look like this every morning, pre coffee, except, it's more like 'I'll take my pot of coffee please and thank you." Alright, truth be told, there are no please and thank you's as I stumble my way into the kitchen with eyes half open and the unresponsive look I have across my face.
For those who know we well, know I am somewhat non-approachable until my first cup is down.

Morning times are not my finest moments; however I am working on that part of me.
Thank God for His grace…Can I get an Amen?

J
I began to ponder the notion, if I am un-approachable before my morning coffee, how approachable am I as a Christian?
Are my eyes half open to those in need?
Do I stumble in front of those who look to me for guidance and encouragement?
How approachable truly is the body of Christ to the lost and needy?
There were times in my life when I encountered "Christians" who deemed me as I lost cause. I was not worthy of their time being a single mom, divorced and raising my children on my own.
In reality, my situation made them uncomfortable.
They just didn't know how to minister to me.
Traditional religion had taught them I must have done something really wrong to be divorced.
When they saw me, they didn't see me, my pain, my brokenness, all that was seen was the huge"D"they themselves had painted on my chest.
So I have to wonder, how do we as the body of Christ view those who are lost, who may have addictions to drugs or alcohol, those who have been taught about God but yet run from him. Women who have taken to prostitution to feed their children?
The homeless, jobless, and fatherless? The ones who have been told they will never make in this world….
The depressed, the tired, and the weary……
Are we approachable as Christ is? Do we shine His love to all or just a chosen few??
Or are we so wrapped up in what tradition teaches that we lose sight of His way…….
If we as the body of Christ appear to be judgmental to one's circumstances and situations, if we do not show true love, how can we expect those to believe Christ loves them as they are?
Jesus gave us all two commandments…….
Jesus replied:
"Love the Lord your God with all your heart and with all your soul and with all your mind. This is the first and greatest commandment. And the second is like it: Love your neighbor as yourself.
Jesus loves us all in spite of our issues, situations and circumstances. He looks upon us all with love, His love!
So as I learn to be a more approachable person pre-coffee, I am asking my daddy God to show me when I seem to be un-approachable for those in need, and instead of seeing my half opened eyes, and my stumbling feet, they see Christ shining in and through me.
I'll take my coffee with
love
in both hands…please and thank you!!