Lots of bloggers have been writing about their/your 'word' for the year. Basically, your word is kinda like your mission statement for the year. Last year, my word was

'LOVE'.
Looking back, I can see how 'LOVE' fit into the year. I wrote 3 'romance'/Inspirational/Christian books (one is out, 2 more are coming out next year from Astraea Press... YIPPEE!!!!). And yesterday while looking at my husband while we were going Christmas shopping, I do believe I 'LOVE' him more than I did 9 1/2 years ago when I married him (and I thought it was a lot back then lol).
To have a 'WORD', you need to get rid of a negative word. To be honest, I don't remember what my negative word was last year (see how well I threw it away), but I know what my throw away word is this year....
CAN'T
.
As in...
"I can't write that book!"

"I can't read the bible in 90 days."

"I can't write a bible study."

"I can't be a good mama/wife/etc."
Of all the negative words, CAN'T is by far one of my worst (I talked to my editor about it yesterday. I think it's a 'writer' thing lol, but I know it goes with all other aspects of my life.)
What negative word are you throwing away? What will be your one word mission statement for the year? Pray about it and let God show you the word you need to work on.
When you receive your word, head over to ONLY A BREATH, and Melanie will make you a blog button for free! (how awesome is that!!!!!)
So.... what's my word for the year?
This word popped into my mind right away.
It's something I honestly struggle with...
I always want to quit (I don't normally, but it does take a lot of effort not too...)
My one word for 2013 is....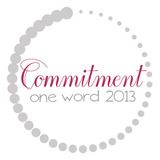 What's yours?
~Kelly