It's been awhile since I've gotten to add any blogs, then tonight I get to add 2. Makes me happy :)
This blog is from Amber. Here is her snippet: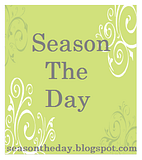 At Season The Day, I hope to inspire readers to join the adventure of walking with the living God. My desire is to encourage others to "Taste and See that the Lord is Good" Psalm 34:8a
Please welcome Amber to the blog directory. Check out her blog as well as the other wonderful blogs posted. If you'd like yours added, please send me an email at ohthatmomagain (at) yahoo (dot) com.
Thanks so much! :)
Imperfectly Yours,
Kelly